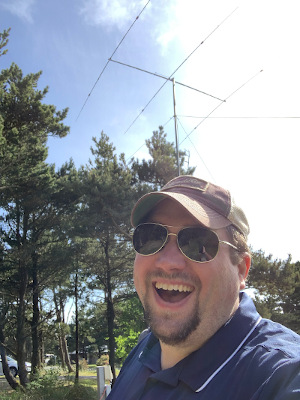 Hello! My name is Chris Maher and my callsign is N7CPM. I am located in beautiful Gig Harbor, WA CN87. I am glad you found your way to my site, where I aim to "brain dump" a lot of the things going on in my head all around amateur radio topics.
I have a been a licensed ham radio operator since July of 2014. I was originally licensed as a Technician with the callsign KG7NFF. Shortly after getting my ticket, I got hooked on the HF bug on 10m while the solar cycle was still pretty active. When I was able to work Argentina on 5watts with just a "wire in the trees", I knew I needed more HF in my life and got my General class license in the fall of 2014.
As a father to two kids, life here can get crazy and I tend to operate on the radio mostly in the evenings or some on the weekends. One of the things that I love about ham radio is the virtually limitless areas of focus you can participate in. Some of my favorite ham activities right now are:
W7DK 2m Net

I host the first Tuesday of the month net on the W7DK club repeater at 147.280Mhz. This net is our club's monthly "social net" and it has been so much fun being the net control operator for the past year. If you are in the greater Tacoma area, please join us around 7:30PM on the first tuesday of the month! More information can be found at W7DK.

HF Nets

I'm a member of the Northwest Country Cousins and try to join up with the gang on our nightly net on 3.968Mhz at 7:00PM PDT. This is such a great group of hams from Washington, Oregon, Canada, California, and more! Visitors are always welcomed after 7:30PM, so please come in and say hello!

HF SSB Ragchews

There is no denying it, I'm pretty extroverted and love meeting new hams on the air. At least once a week, I'll hop onto one of the bands (usually 17m/40m) and call CQ. I love seeing who responds, as band conditions can be so hit or miss now. Long ragchews with fellow hams is always a highlight and I hope to work other passionate hams on the air!

CW

Shortly after getting my ticket, I knew the code was the thing for me. I'm still pretty slow but love working folks using CW. I mostly use a Vibroplex Iambic key that I picked up at a swap meet. I'm a member of the SKCC as well and try to get the ol' straight key or bug on the air from time-to-time.
I also enjoy CW contesting, especially in the winter months.

Digital

Love it or hate it, digital modes are a great way to make great DX contacts during this time of poor solar activity. I'm pretty active with FT8/FT4.
During contest season, I like to participate in RTTY contests. It's fun to see the waterfall light up with the sounds of RTTY on the air!

QSL Cards

One of my favorite parts of the hobby is the sending and receiving of QSL cards. There is something special about it and I love adding new cards to my wall. If you are a fan of QSL cards and we work on the air, please send one my way and I'll send one back! No need to send a SASE!

Contesting out in the field

In 2015, Jeff KG7MPF and I did Field Day in Eastern Washington and later that fall, we participated in Salmon Run (Washington State's QSO Party) in Ferry County, WA!
For the 7QP contest in 2019, I joined three other hams for an adventure on the county lines of Grays and Pacific counties in Washington state! Team W7EEE even won the Multi-County/Multi-Operator award that year!!
Hope to meet you on the air!
73,
Chris N7CPM